CSGOPolygon Review
An impartial CSGOPolygon review, delving into all essential details to determine its legitimacy. Let's uncover whether CSGOPolygon is a legitimate platform or raises concerns of being fake.
Pros
2,5% Rakeback System
100% Provably Fair
Deposit Skins
Really good Casino-Games
Live Support (Chat & Tickets)
Cons
The site exclusively supports English.
CSGOPolygon Review: Unveiling the Oldest CS2 Skin Betting Site's Legitimacy and Bonus Offerings
This comprehensive review aims to delve into the depths of CSGOPolygon's legitimacy, exploring its journey since 2016 and shedding light on its recent foray into the realm of cryptocurrency. Additionally, we'll uncover the site's bonus offerings, including a step-by-step guide on how to claim a tempting free bonus using the code "VIOCS."
CSGOPolygon's Evolution and Current Landscape
CSGOPolygon emerged in 2016, marking its presence as one of the pioneering platforms in the CSGO gambling domain. Over the years, it has evolved, adapting to the changing landscape of online gaming. One significant transition worth noting is its recent shift towards embracing cryptocurrency, leading to the introduction of its crypto token, PLG, and a subsequent rebranding as PLGBet.
However, this evolution has not been without its challenges. The adoption of multiple names and domains in the wake of cryptocurrency integration has sparked confusion among users. The site's identity, now intertwined with PLGBet, raises concerns about the potential emergence of impersonator sites, capitalizing on this ambiguity. Furthermore, the user interface has not escaped the winds of change, sporting an outdated design that might pose navigational challenges for some players.
Is CSGOPolygon Legitimate?
Addressing the core concern of legitimacy, CSGOPolygon does pass the litmus test. With its roots dating back to 2016, it stands as the oldest CS2 gambling site still active. This longevity speaks volumes about its ability to navigate the volatile landscape of online gaming and maintain a presence in a competitive market.
Analyzing its monthly traffic, CSGOPolygon, now PLGBet, attracts approximately 300,000 visitors, according to data from SimilarWeb. This substantial user base is a testament to its enduring popularity and player trust within the CSGO community.
One of the key pillars supporting CSGOPolygon's legitimacy is its commitment to fairness. All of the site's original games undergo scrutiny through a provably fair system, ensuring transparency and integrity in the gaming experience. This commitment to fairness aligns with industry standards and provides players with a level of assurance regarding the legitimacy of their gameplay.
Additionally, CSGOPolygon holds a valid gambling license, adding a layer of regulatory compliance to its operations. This licensing, coupled with a generally positive reputation within the gaming community, contributes to the overall legitimacy of the platform.
From a security standpoint, the website operates on a secure SSL-encrypted connection. Users can verify this by spotting the padlock icon on the left side of the address bar, signaling a secure connection. This dedication to secure transactions and data protection is a crucial aspect of online gambling platforms, and CSGOPolygon seems to have taken the necessary steps in this regard.
CSGOPolygon's Bonus Offerings: Claiming the Free Bonus with Code "VIOCS"
Beyond its longevity and legitimacy, CSGOPolygon sweetens the deal for players with an enticing bonus offering. For those looking to kickstart their gaming journey on the platform, claiming the free bonus is a straightforward process. Here's a step-by-step guide:
Visit CSGOPolygon.com: Start by accessing the platform using the provided link. Ensure you are on the official site to avoid falling victim to impersonators.

Register on CSGOPolygon: Create an account on the platform to unlock the full range of gaming features and bonuses.

Redeem Code: Navigate to the top menu on the site and locate the Bonus Link. Click on it to open the redemption interface.

Enter Code "VIOCS": Input the code "VIOCS" in the designated field. This code acts as the key to unlocking the bonus.

Enjoy 2,000 On-Site Coins: Upon successful code redemption, revel in the instant boost of 2,000 on-site coins credited to your account balance. These coins can be a valuable asset in exploring the diverse gaming options available on CSGOPolygon.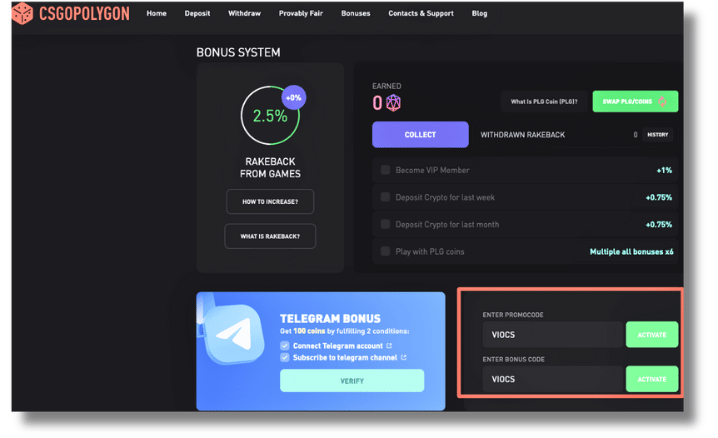 This bonus serves as a welcoming gesture, allowing players to familiarize themselves with the platform without immediately delving into their own funds. It's a strategic move by CSGOPolygon to attract new users and provide them with a taste of the gaming experience on offer.
Conclusion: Navigating the CSGOPolygon Terrain with Knowledge and Bonus Boost:
In the expansive landscape of CSGO gambling, CSGOPolygon, or PLGBet, remains a towering figure as the oldest CS2 skin betting site. Its journey since 2016 mirrors resilience and adaptability, though recent transformations introduce complexities.
While the platform's legitimacy holds strong, users must tread cautiously amidst the integration of multiple names and domains. The outdated design, while a potential navigational challenge, doesn't overshadow the core gaming experience, fortified by provably fair games and a secure SSL-encrypted connection.
For those enticed by CSGOPolygon's offerings, the bonus code "VIOCS" opens a door to exploration. It serves as a stepping stone for players to navigate the platform confidently, armed with both knowledge and a bonus boost.
In summary, CSGOPolygon stands as a legitimate player in the CSGO gambling scene. Caution is advised amidst recent changes, but armed with knowledge and the bonus boost, players can confidently navigate the terrain of CSGOPolygon and explore the myriad gaming experiences it has to offer.
Embark on an immersive journey through the dynamic realm of CS2 gambling sites, where each platform unfolds as a distinctive experience. For an in-depth exploration, discover our comprehensive CS2 Gambling Sites Reviews.